HOME
> Facilities_Facility Guide
Facility Guide
Tokyo Metropolitan Theatre is fully equipped with four performance halls, four exhibition spaces, and other rooms that can be used for rehearsals and meetings.
Concert Hall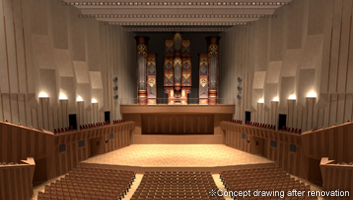 Concert Hall is a full-scale music hall that can seat 1,999 people. The hall features an open stage and a world-class size pipe organ in the center of the back wall side of the stage.
Playhouse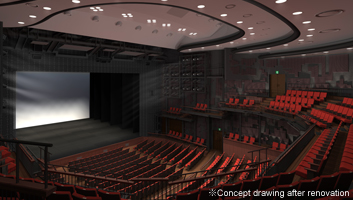 Playhouse is a medium-size performance hall that has 834 seats and an orchestra pit that can accommodate approximately 60 players. The hall is suitably designed to present plays, musicals, dance performances, and such.
Theatre East
Theatre East has a post-frame structured flat floor and allows various types of stage designs such as end stage, thrust stage, and arena stage.
Theatre West
Theatre West has a 9-meter wide × 5.2-meter depth stage. The stage has a temporary proscenium (picture frame) panel and can be converted into a thrust stage with an extension structure.
Exhibition spaces
Gallery 1
Gallery 2
Atelier East
Atelier West
The exhibition spaces can be used for the presentations of paintings, photographs, sculptures, and other types of artwork.
Other rooms
Rehearsal Rooms
Rehearsal Rooms can be used for rehearsals and practices by orchestras, chamber music orchestras, choirs, dance groups, theatres and such.
Symphony Space
Symphony Space can be used for rehearsals by orchestras and chamber music orchestras and also as a meeting room for a large group.
Meeting Rooms
Meeting Rooms are suitable for meetings, trainings, lectures, and other similar purposes. Meeting Rooms 5 & 7 can also be used as rehearsal rooms by chamber music orchestras and similar.